Are you a busy car nut, and have kids to entertain on Saturday morning?
Is your spouse dying for a morning where they can sleep in, or get some "me time"?
Are you a grandparent (or really cool uncle/aunt) that wants to give the children in your family some exposure to car culture?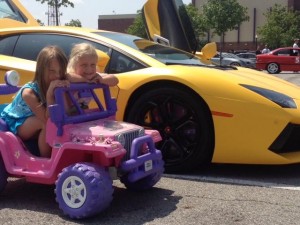 Do yourself and your prodigy a favor and bring them out to Columbus Cars and Coffee! Not only will they experience some beautiful summer mornings, but they will get to meet some other great kids…OH YEAH, did we mention there were CARS INVOLVED?!?
So…if you're a gearhead parent or grandparent that wants to expose the young'uns to some great cars (but don't want to commit 8 hours on the weekend to a car show), or you want to meet other gearhead parents, feel free to come down any Saturday!
Points awarded every weekend to the coolest bikes, wagons, or PowerWheels!