People that have lived in Central Ohio through at least a handful of years – and winters! – know the old adage by heart: "If you don't like the weather, wait 15 minutes"…
Given the natural propensity for Mother Nature to give us radical temperature swings from day-to-day, in addition to weather events that apparently elude the best computer models and experienced meteorologists, we have to expect the unexpected. It's never ideal, especially for planning outdoor events. However, critiquing it is just as hopeless. (Yes, of COURSE the weather would be nicer if it was 25 degrees warmer and it wasn't snowing!!!)
But despite my personal desire (shared by many others) for everyday to be sunny and 82 degrees, Ohio will give us a gift every once in a while. In the middle of snowing one day, raining the next, and sleeting in between, we'll get a blast of sunshine and a relative warming of the air that makes you glad to be alive. This past Saturday morning, we received just such a gift.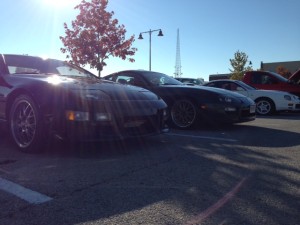 From the time the sun rose, it felt warmer than the weatherman were predicting. Through mid-morning, the sun forced the ground to warm, and those of us at Cars and Coffee enjoyed a fleeting taste of the last 7 months' worth of warmth…knowing all too well the winter around the corner.
Unfortunately, it was all too brief, as a layer of clouds blotted out the sun and the cool winds picked up again. Almost instinctively, people either went back inside Cup O'Joe, or pleasantly wrapped up conversations and departed.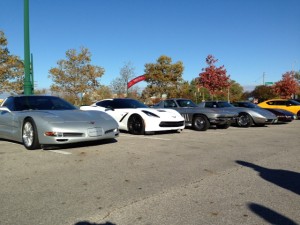 We had a great turnout on October 26th, 2013. By count, a better turnout than many weekends over the summer. It might have been the break in the cold weather we experienced the past week, and the anticipation of a better Saturday morning. It may just have been a total disregard for the weather altogether. Whatever the reason for having a great turnout, people enjoyed the cars, themselves, and appreciated the sun.
Here's to hoping for many more Saturday mornings like this…